SLEEP DEPRIVATION CAN INFLUENCE NUTRITION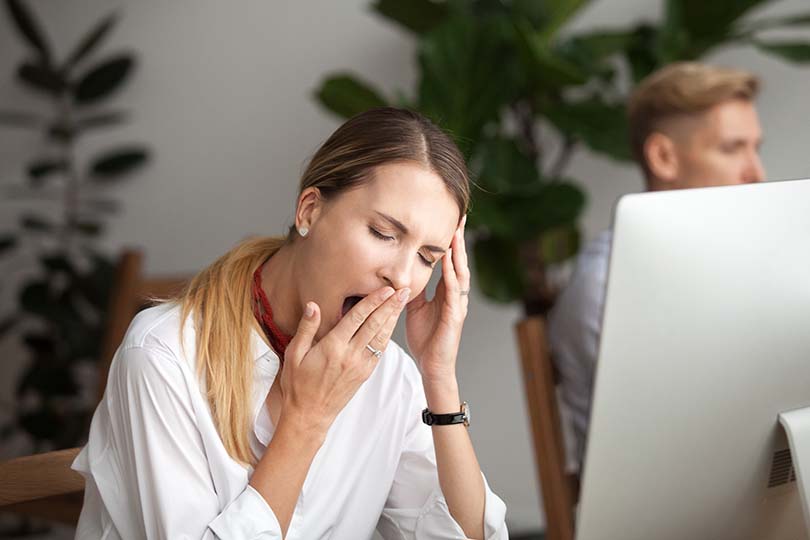 Healthy sleep is not only something beautiful, but also very healthy. Because sleep deprivation promotes cravings for chocolate, burgers or other high-calorie snacks, among other things.
In the film "Sleepless in Seattle", insomnia is quite a romantic affair. In the film, Tom Hanks, the "insomniac", and Meg Ryan fall in love. But insomnia is actually not all that nice: according to a Swedish study, up to 20 percent of all road accidents and about 30 to 50 percent of all serious truck accidents are due to the dreaded microsleep. And: According to their own statements, about 15 percent of Germans suffer "constantly" or "frequently" from daytime sleepiness or daytime drowsiness, so that they fall asleep briefly during the day against their will.
In addition, insomnia or sleep disorders in general have numerous negative effects on health. For example, a study by the University of Cologne showed that sleep deprivation also stimulates the appetite and promotes cravings for chocolate, burgers or other high-calorie snacks. In a laboratory test, scientists found that sleep deprivation increases the subjective value of food compared to non-food. In other words, those who are sleep-deprived are more likely to eat unhealthily and/or excessively the next day.
"This should not be underestimated, especially in winter. In the dark season, we prefer to reach for high-fat and high-carbohydrate foods anyway, and we usually also move less because of the less good weather. If this is compounded by increased appetite due to sleep problems, it opens the door to significant weight gain. And getting rid of the kilos can turn into real stress with a view to spring and summer," says Natura Vitalis founder Frank Felte (www.naturavitalis.de). The company from Essen has long been considered one of the leading manufacturers of natural food supplements and places the highest value on continuous further and new developments of health products on a scientific basis.
This means, then, that we need to pay attention to our healthy and sufficient sleep for very different reasons - we are simply fitter afterwards and prevent ourselves from overindulging in unhealthy foods. In the past, it was assumed that sleep was of no essential importance for humans and was merely an interruption in the daily routine. Today, we know from numerous scientific studies that sleep is vital for the body and the psyche - long-lasting sleep disorders lead to health and psychological disorders. Epidemiological studies have also shown that people with chronic sleep deprivation have an increased risk of obesity or type 2 diabetes.
"To get a good night's sleep again, natural substances are the main help. Medicines or especially alcohol should not be used. Only the hormone melatonin is necessary for an easy and relaxed fall asleep. It is produced in the pineal gland. When it gets dark, the pea-sized organ in the brain sends a lot of melatonin into the blood. Valerian and lemon balm are equally important. The herbal substances have a calming and thus sleep-promoting effect and prevent sleep problems," emphasises Frank Felte.
For this reason, Natura Vitalis uses the product "CBD Sleep Soft Gums" (https://www.naturavitalis.de/CBD-Sleep.html). The worldwide unique, herbal formula, which contains melatonin, valerian, passion flower, ashwagandha, lavender and CBD, among others, allows users to fall asleep within a few minutes. The bioavailability of the "CBD Sleep Soft Gums" is additionally increased by a very complex production technology. In a special process, all ingredients are incorporated into very small and finely distributed molecules in a special matrix of gelatine and lecithin. When ingested or dissolved in the mouth (buccal absorption), these are then released, whereby the fine distribution, with the same volume - i.e. the same quantity - results in a significantly larger surface area, through which the absorption of active ingredients can take place.
This text may contain translation errors as the translation was done by an online translation tool.